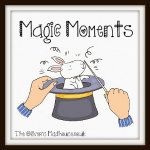 I was trying to think of a magic moment to write about during my yoga class this morning and was really battling to come up with one moment over the past week.
We had such an amazing weekend that it sort of clouded everything that happened during the week and there wasn't only one day or one event that was lovely – it was all just so great.
So what made it so magical? I am not sure really. I think a combination of things. We seem to be in a really great place as a family. The kids are all doing well, David and I are content. It's a happy time for us.
We didn't really do much that should be noteworthy which just goes to show that you don't need money or to venture far to have a good time. On Saturday I popped out to do some chores while David and the kids did some garden DIY. It was a spur of the moment thing and I don't have any before photos because we spoke about doing it, I went to bath and David had done it
I am so glad that he did though. The area has been bugging us since we moved in but we haven't been able to figure out what to do until Saturday and it cost us nothing. We used pavers from the back garden and paved a small area just outside the kitchen that previously had sleepers and ugly stones. It looks SO much better!
Then 3 of David's friends came round and despite being the only girl and 2 out of the 3 of them being single we all had a really great time. We laughed, ate (cold meats and bread – it was sooo yummy), and the kids swam and then it was movies of the couch for the 5 of us!
Sunday got even better – I managed to bake some muffins, get some scrapbooking done and made a proper Sunday lunch before we headed to Joburg for a baby shower! A day where I can bake AND do scrapbooking is a win day for me so before lunch I was already in my happy place!
There were so many little magical moments during the weekend that made it one of the best we have had in ages. It was one of those moments where you feel so totally blessed and realise how much love you do have!
What was your magical moment this weekend?